As you know, using poppers for your intimate evenings or just to party is a great idea! However, a question obviously arises as to the quality and the absence of toxicity of the poppers you like. Whether it is a Rush, Amsterdam, Jungle Juice or Everest Aromas popper product, is this one an original and not a fake poppers?
It is definately necessary to know it before using the nitrite. This avoids potentially significant health problems and not being able to enjoy an anthology rush! We are going to answer the main questions about fake poppers in this article so we invite you to read on!
The dangers of fake poppers
It is important to remember that to avoid any risk when consuming poppers, the fundamental factor is their quality. As you know, poppers are composed of chemical molecules which, when they come into contact with the body, generate a feeling of euphoria and disinhibition. The purity of the formula determines the effects of poppers on your body. Several problems can arise if you use a product containing a different nitrite than mentioned on the label, harmful additives or an Amyl, Propyl or Pentyl nitrite of poor quality or even counterfeit. Also and especially if you like ultra-strong versions:
Firstly, you may have severe headaches and feel bad for a more or less long period, pay attention to your health.
A risk of dependency is also likely to occur resulting in the problems that this may cause for your personal balance on a daily basis.
Thirdly, these fake poppers are often more volatile.
Where do fake poppers come from?
Unfortunately, several countries in the world, including China, have become "masters" in the art of counterfeit popper products.
Using very pure nitrites is expensive. Unscrupulous manufacturers prefer to use other chemical components or less expensive harmful additives. Pay close attention to where your popper bottles come from. The country, the brand of course and very often the website address must be mentioned on the packaging. You will be able to check the authenticity of your Amsterdam, Jungle, Everest or Super Rush poppers!
Also remember to look at the description of your nitrite as well as the product details that are mentioned on the label. If these are missing or poorly detailed, beware!
Where to find best quality poppers?
We invite you to choose a well-known online store specialising in the sale of Poppers. The mixes of nitrites and propyl, amyl or pentyl Poppers that you will find on sale will be originals. They are made by prestigious brands such as Blue Boy, Jungle Juice, Amsterdam or Everest Aromas.
Do not take the risk of buying your poppers directly from strangers or in shops where the sale of poppers is not their main activity.
Poppers made in Canada, the United States, the United Kingdom and more generally in Europe, are also better controlled. In France, where they are legal, the standards are strict in terms of quality. However, some copies of products can go unnoticed by consumers, who believe that they are buying an original product but end up buying fake and much more expensive poppers.
The most counterfeit popper brands
As so often, it is mostly the best known poppers brands that are copied first. We can mention Rush, mainly the original pwd rush or super rush but also Everest Aromas, Amsterdam or Jungle Juice
These manufacturers are very well known for the quality of the products. They guarantee strong and lasting rush effects, allowing you to disinhibit yourself and boost the libido.
Some websites or WhatsApp groups offer different sizes and compositions of poppers, at very high prices and the quality leaves something to be desired.
This is the case for example with our Everest Aromas Poppers: Fake versions of Everest Premium and Everest Black Label are circulating on the internet and are on sale, in small and large bottles and boxes, at over €21.
Don't be fooled! Real quality Poppers Everest contain 10 to 24 ml only, they are composed of Alkyl nitrite and not of butyl nitrite. They are also not packed in cardboard boxes.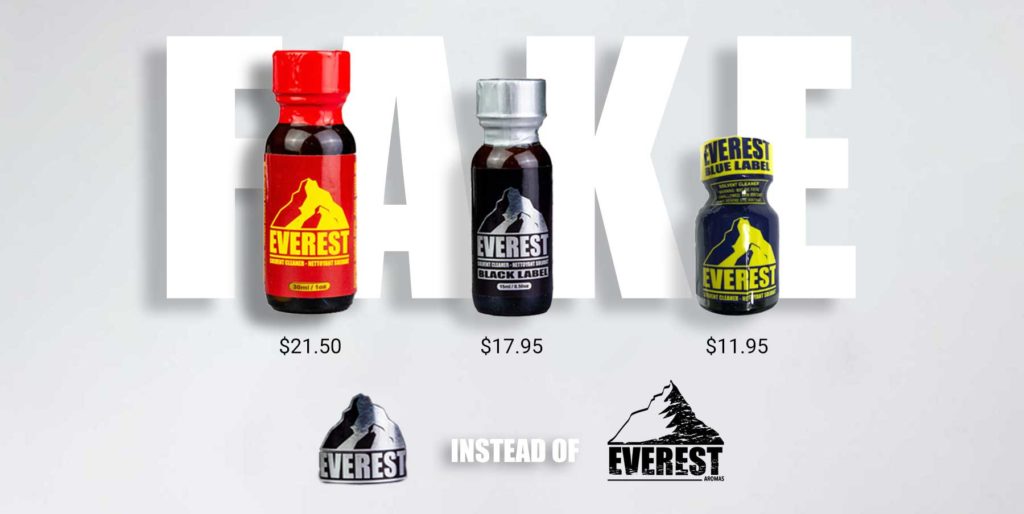 How to avoid fake poppers?
Take some precautions! Avoid Butyl nitrites, you should only order poppers containing Pentyl, Propyl, Alkyl or Amyl nitrite. Select online stores well known for the quality of their products and services such as Poppers Aromas. Otherwise, in a sex shop or other physical stores that sell quality products. A good practice to put in place when you buy this type of product is to consult the consumer reviews of the online store. This will let you know if you can order your nitrite safely by the good ratings that it has. Consumer reviews will give you a clue about the quality of the product, as well as the effects of the Poppers. However you need to remember that everyone reacts differently. For example an aroma may suit you but not your friend.
You can also contact friends or connoisseurs by asking them precisely where they get their supplies. This will let you know where to buy original poppers made by brands like Rush or Everest aromas.

In addition, check if the poppers bottle bears the brand or product logos. If it also has a strong and tight closure. Paying attention to fake poppers is above all to protect your health from bad nitrites or other dangerous compositions. Although poppers are not a drug, its composition remains chemical, the use of this product must be controlled.
At Poppers Aromas, original poppers are guaranteed!
Now that you know how to distinguish fake poppers from originals, you can enjoy their wonderful effects. Remember to apply these tips and pay attention to details such as size and composition, which will give you clues to identify a good quality aroma. And don't forget to check out the reviews!
At Poppers Aromas, you can find reviews directly on our product sheets or reviews on our shop in general, over 10,000 customers reviews are available. This will allow you to get a clear idea of ​​the quality of service and the seriousness of the online store for all popper bottles containing high quality nitrites.
All the major popper brands are present and there is a large choice of original bottles of nitrite for each such as Super Rush Black Label, Jungle Juice Platinum, Rush PWD, or Amsterdam.
Also don't forget that our customer service can be reached by phone at +44 20 3445 5897, as well as by e-mail at contact@poppers-aromas.eu. Our experts are present to answer all of your questions concerning your order, the use and the choice of poppers available in our shop!
Now you're ready to have a good time and party in peace!