Since the 1980s, the company named Lockerroom has been making the world-renowned poppers: Jungle Juice. This brands satisfies millions of customers every day around the globe and sells a wide range of quality poppers. The poppers that stand years after years are the unquestionable Jungle Juice Platinum.
The poppers brand named Jungle Juice Lockerroom
Just like the timeless Perfecto jacket, we can assert that The Jungle Juice brand is timeless in the poppers society. It has been made in Canada by the Lockerroom company since the 70s and their poppers are among the best selling ones in the world.
It is not Lockerroom's first attempt since they also own many other famous brands such as: Amsterdam, Blue Boy, Fetish, Iron Horse and even Rochefort.
Jungle Juice Platinum: The Best-Seller
Jungle Juice Platinum has been the best-seller of the brand since its creation. It soon became a global hit and it's now an unquestionable reference as much in the LGBTQI+community as with the young beginners.
As victims of their own success, poppers were counterfeited during the years of prohibition in France or even the US. We know that even today some people amuse themselves by making counterfeits and selling them online or in sex shops. So be careful and read tags carefully!
On Poppers Aromas, you won't have to worry about that because we important Jungle Juice poppers straight from their makers and they're sold at the best price on the net in bottles of 10 or 30 ml, by the piece or in batches.
Jungle Juice Platinum is made in Canada, the country which authorizes the making of the product but not its consumption. Jungle Juice Platinum is made from propyl nitrite and its powerful aroma is as strong as the poppers you could find back in the 80s. Being powerful, Jungle Juice Platinum stimulates your senses and will increase your moments of sexual ecstasy. Lasting 3 to 4 minutes, its pleasant smell will make you lose your inhibitions.
This type of poppers is perfect for a daily use and the muscular relaxation you will experience will be perfect for the dilation of your anus so that you may be penetrated by any type of plugs or penises. With an easier penetration, you'll experience longer orgasms and – in plain language – your sexual performances will be outstanding thanks to the aphrodisiac powers of Jungle Juice Platinum.
Jungle Juice Platinum poppers is available in bottles of 10 to 24 ml and is still « the original », the first one to have been invented in the Jungle Juice range. So men and women should be highly satisfied with its unbeatable formula… Though today competition is fierce especially with Everest Premium, the strongest poppers in the world whose formula of 95% amyl has already conquered a wide part of the poppers society.
A wide range of poppers
The Lockerroom company has implanted its jungle of poppers in the poppers society and each range is a new juice on the market of poppers still at affordable prices. During the year 2019, a new product was created: Jungle Juice Max. We will thus present you this jungle of juices step by step.
Jungle Juice Zero
These poppers with character are made from a combination of pentyl and propyl. Their bottles have a mega pellet to keep the juice longer. The humidity of the bottle is attracted to the protective ball and then the water will be eliminated to guarantee a purer aroma.
These strong poppers enhance your sexual drive with pentyl nitrite and make your orgasms longer with propyl nitrite. They're one one the most powerful in the Lockerroom jungle.
Jungle Juice Black Label
This juice is also made from a combination of nitrites, this time pentyl and butyl nitrites. You'll be plunged in a dark and sensual universe that will stimulate your pleasure. It will also make you lose all your inhibitions and satisfy all your sexual drive.
Immerse yourself in the dark part of the Jungle thanks to an extreme formula and live your darkest sins while you ride your partner endlessly. For the connoisseurs only.
Jungle Juice Plus
This juice is made from propyl nitrite and its formula is quite close to the one of Jungle Juice Platinum. Its aroma is slightly less strong hence its nickname: the King of the Jungle's little brother. However its effects are not less important as they're fast, and make your muscles relax immediately. This anal relaxation is perfect for an unparalleled comfort.
Jungle Juice Gold Label
This variation of Black Label wasn't made from the same nitrite so its effects aren't similar either. Jungle Juice Gold Label is made from amyl nitrite and gives stronger erections as well as delayed ejaculations.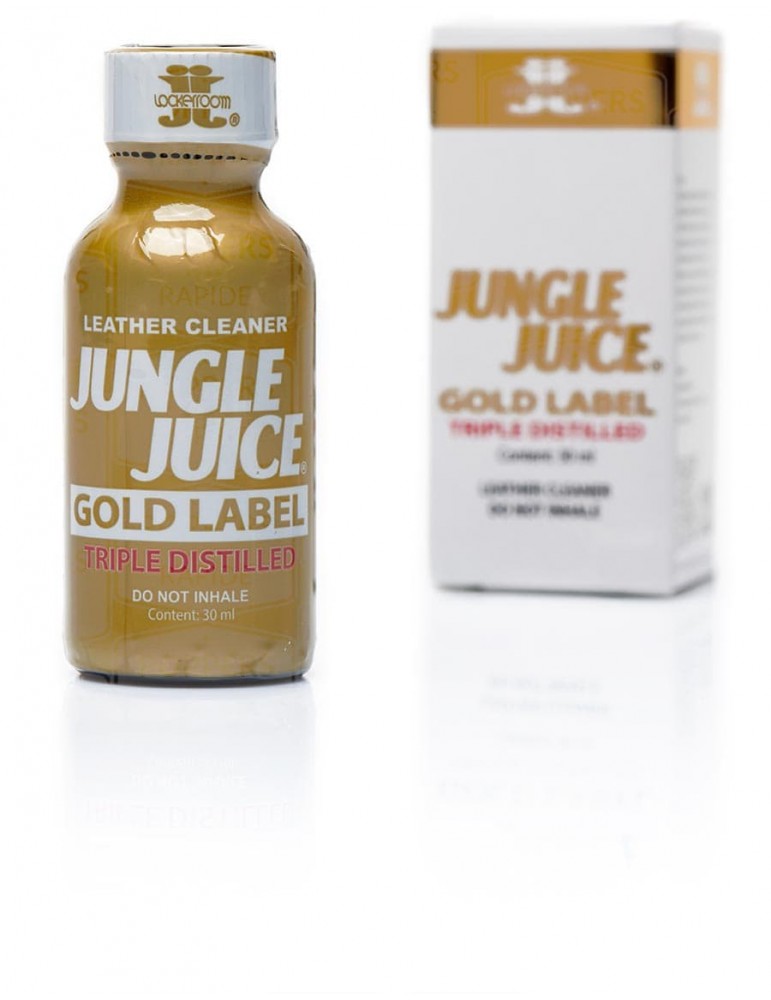 This product will also make you lose your inhibitions as much as Jungle Juice Black Label and will also give let you yield to your kinky-jungle side in order to satisfy your sexual appetite. Its aphrodisiac power is so huge that you'll feel sexually excited for an indefinite period.
These gold poppers are not recommended to beginners since amyl nitrite is the strongest of all.
Because we all have faults, Jungle Juice poppers evaporate quickly so we advise you to close the bottle after use. These products also have quite a high alcohol concentration, which makes their aromas very volatile.