Find all the best brands of poppers at the best prices on Poppers Aromas! Sold by the piece, in batches or in original packs, all your favourite poppers are at affordable prices.
Like taking poppers during parties? Especially since parties at home have become commonplace. But also when you're with your man in a so-called suggestive position? However, it's sometimes difficult to make ends meet and buying a €12 bottle every Friday at your favourite store can be expensive especially when your poppers end up spilled on the floor two hours after buying them. So if you're looking for a place where buying poppers at a cheap price with free delivery is said to be impossible, we're here to prove that what is said is wrong.
On Poppers Aromas, you can buy poppers at all prices. Enjoy the euphoric and slightly aphrodisiac effects of Gold Poppers Extra Strong for a price starting from €4.90. These poppers are high quality and made in France. And you'll find over 90 references of high-quality poppers on our online shop.
What is our secret for such cheap poppers? It's simply – and it's not a secret – because we are supplied directly by the producers, which allows us to offer you affordable deals for your packs of poppers or for bottles by the piece. 
Discover all the poppers from the Jungle Juice range, the famous Blue Boy, the great Everest Aromas, trip with Amsterdam poppers or try the brutal pleasure of Fist Hard and All Black poppers.
In addition to low prices to buy your poppers, you can enjoy the fast delivery. If you order before 2 pm, be sure that your parcel will be shipped on the same day. Be greedy and stock up on strong poppers to benefit from free delivery. Indeed, for any purchase over €60, get free shipping costs for orders to the UK. Need more information read our FAQ on how to buy poppers from UK. Don't wait any longer and enjoy our low price as well as our fast delivery!

One type of poppers, several effects.
Whether you're a beginner or an enthusiast and whatever you want to do with your poppers – having a good laugh or optimising sex – all our poppers are made from one nitrate, that is to say, a formula that brings you more or less aphrodisiac effects to your aroma.
In France, three nitrites are authorised for sale and purchase: amyl nitrite, propyl nitrite and pentyl nitrite.  The great poppers enthusiasts are lucky enough to have nitrite in their bottles that aren't subject to a price difference. If you buy poppers made from pentyl nitrite, a combination of nitrites or 95% pure amyl poppers, the price can be the same. What affects the price is more the place of production or any guarantee of superior quality. Discover the effects given by each type of nitrite in order to choose the ideal formula!
Amyl nitrite: what effects, what price?
Amyl nitrite – the very first to be synthesised – is true orgasmic happiness with its aphrodisiac power. It's a very powerful product. Indeed, amyl nitrite is known for its stimulating and arousing virtues. Everest 15ml Poppers Premium is a descendant made 95% from this extra strong compound. Amyl nitrite allows to make the strongest poppers ever. It was the first one to be produced and sold. Amyl nitrite is powerful enough to relax your soft muscles and totally uninhibit you. If you're looking for strong effects to blow up your head or to be resistant all night long, choose Everest Premium, Jungle Juice Gold Label, Amsterdam Black Label, Gold Rush or even Fist Hard 100% made in France.
Benefit from the best amyl nitrite-based poppers from €7.90. On average, they will be the most expensive poppers.
Propyl nitrite: what effects, what price?
We all need to have a good laugh and even more since these last months. So opt for propyl nitrite-based poppers even if some types of poppers such as Blue Boy 24ml can also have an excellent aphrodisiac effect.
Propyl nitrite is renowned for its euphoric power. It's ideal for parties but also for its powerful effects during torrid nights. In bottles of 10ml or 24ml, these propyl poppers are often the best-known juices. During the 70s and 80s, frenzied musicians had a break between songs to inhale a bit of the aroma of Jungle Juice Platinum, the patient Blue Boy or the incorrigible Amsterdam Original.
You'll find poppers from propyl nitrate at any price on your online shop, starting from €3.90.
Pentyl nitrite: what effects, what price?
As for pentyl nitrite, it has long been nicknamed "strong poppers". First of all, because it can be kept better than any other type of nitrite but also because it has the effect of a bullet when you first inhale it. It's not an illusion!
Pentyl nitrite is a mixture of the two nitrates mentioned above. It releases a strong aroma with immediate effects and it can be kept for a long period. Ideal for a good laugh or to stimulate your libido for long hours, poppers made from pentyl nitrite are the right balance between amyl and propyl poppers. Try Jungle Juice Black Label, the charming Everest Original or the unclassifiable Amsterdam Special Lockerroom.
A mixture of nitrites? Tenfold effects?
If none of these nitrites satisfy you, try a mixture of nitrites. That is to say the benefits of two nitrites in a single poppers formula. Sensitive happiness felt in Pig Juice poppers, a mixture of propyl and amyl poppers, Jungle Juice Zero poppers, or even in the formula of Everest Zero. Its mild aroma hides a powerful type of poppers. The high is light but the relaxing and exciting effects are rapidly felt.
The effects of a mixture of poppers can be tenfold, even complement each other and add an extra sensation to your formula that you won't find in another type of poppers made from a single nitrite.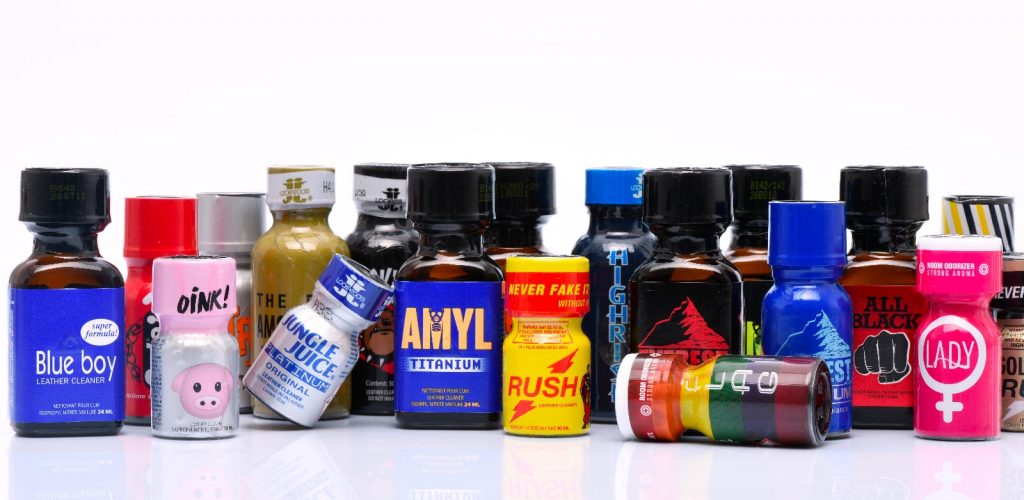 "Susie from Poppers Aromas speaking, what can I do for you?"
For any question due to your lack of experience, your craving for new hard sensations or a leaking stopper, Susie will be glad to answer you. If you need some advice, feel like discovering new practices to test with your partner, she'll be all along with you. This service is priceless, only your good mood matters.
For more details, visit our blog where you'll discover the history of poppers in the world but also in France.  In addition to being informed about the coming promotion or the month's novelty, you'll find advice to keep your poppers or make a Poppers cocktail made from Perrier and poppers, among other things.
The history of poppers is more than a century-old history. They were invented for the first time by Antoine-Jérôme Balard in 1844. Poppers were born in France. Indeed, French people like good things!
2013 was the year when poppers from amyl, pentyl and propyl nitrites were authorised for sale. And since 2015, any tobacconist can sell you poppers. The approval rating of poppers increased in the seventies and eighties. The number of poppers and the diversity of formulas has boomed since the turn of the century. Poppers Aromas has all the most classic references.
Order now and collect loyalty points to buy even more poppers!