The end of year festivities is approaching! To celebrate, we at Poppers Aromas have put together 3 poppers packs to give as gifts or to treat yourself before 2022 (available only in limited edition). We've put together these poppers packs based on the feedback of our customers. Get ready to discover each XMAS poppers pack.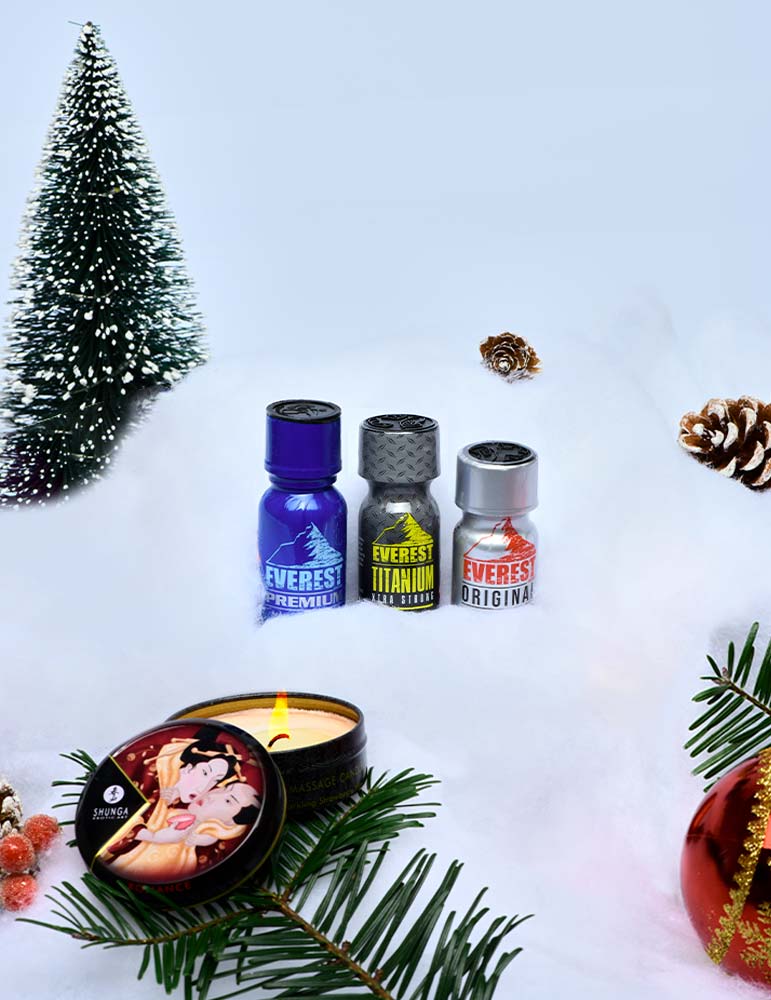 Sweet XMAS Pack
Let's start gently with the Sweet XMAS poppers pack. Enjoy 3 Everest Aromas poppers and a Shunga massage candle with an aphrodisiac scent.
Each selected poppers has a specific formula. Start with Everest Original, made of pentyl nitrite, which is ideal for a night out with friends or a romantic evening. Keep it up with Everest Titanium poppers to get the hormones flowing and stimulate your desire. Finally, the very special Everest Premium, amyl nitrite poppers. Well known for its powerful aroma and its pure formula with 95% amyl nitrite. It is now the most powerful aphrodisiac poppers in the world.
As you can see, the Sweet XMAS pack is the ideal gift for your partner. Enjoy a romantic evening and let the magic of Christmas take you to cloud nine.
Available for 19,90€.
POPXMAS Pack
End the year in good company with 3 bottles of Everest Aromas poppers. (Re)discover Everest Original, Everest Titanium & Everest Premium in this limited edition pack. And let's not forget a beautiful Poppers Aromas collector's t-shirt that can replace your traditional Christmas jumper or New Year's Eve outfit. A unique logo is flocked on the left side of the t-shirt because we know you have Poppers Aromas in your heart.
Bring your poppers pack to your Christmas party with friends or for the New Year. Make a delicious Strong Perrier poppers cocktail. An excellent recipe for special occasions to warm up and have fun all night long to the sound of music. With the POPXMAS pack, you will be ready for the new year!
Available for 23,90€.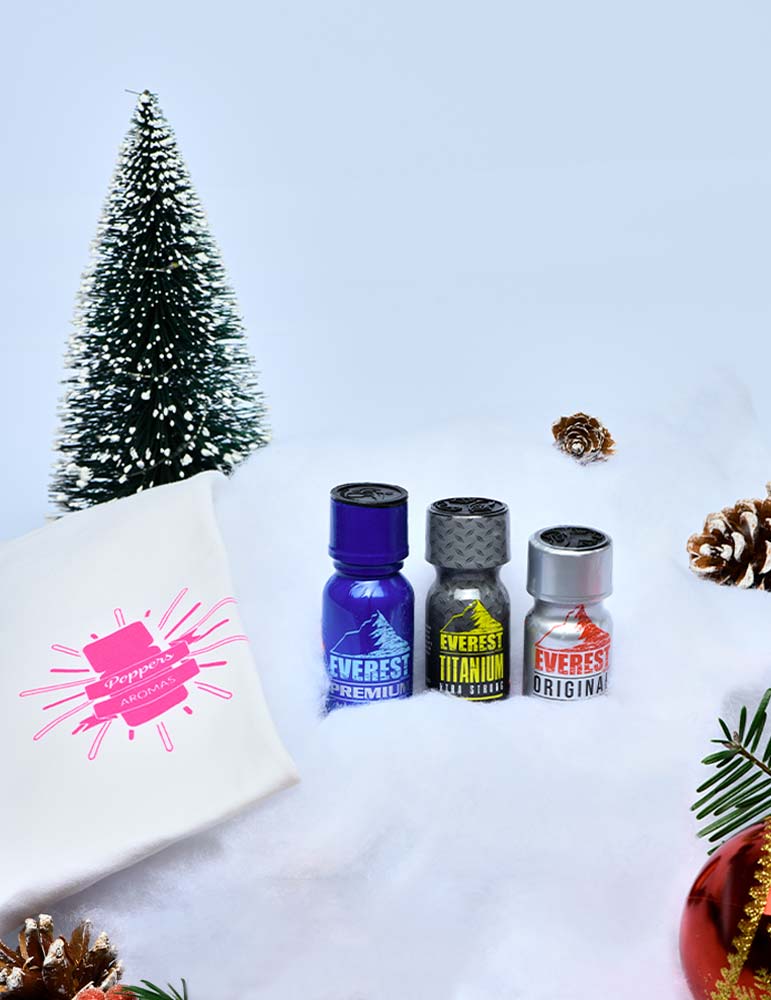 XMAS Premium Pack
We saved the best for last! The XMAS Premium poppers pack is the 2 in 1 pack. Enjoy it with your partner, on a one-night stand or at your parties with friends. Every opportunity is worthwhile.
You will find 3 Everest Aromas poppers: Everest Poppers Original, Everest Titanium and Everest Premium. These 3 magic vials have various effects thanks to their formula based on different nitrites. Which is perfect for gradually building up excitement during your holiday season. This pack also contains an inhaler to enjoy your poppers anywhere, a delicious smelling Shunga massage candle, and the very chic Poppers Aromas collector t-shirt.
The XMAS Premium pack is just as suitable for parties with friends as it is for romantic celebrations. One thing is certain: it will awaken your senses and delight you to end the year on a high note.
Available for 32,90€.
Beware, the number of packs is limited so don't miss out and order now!